Hello fellow blog folk. We are at another addition of Meet Me Monday. Hosted by the lovely host of Never Growing Old. Want to join in the fun? Click on the grab button, link up and go for it! The more the merrier I say. :)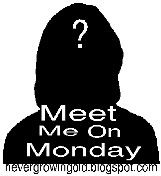 Questions:
1. What is your favorite sandwich?
Hmm...I am not sure I really have a favorite sandwich. I mean I like bologna and cheese sandwich. However, I like a good peanut butter and jelly sandwich too.
2. What is stashed under your bed/mattress?
3. What is your favorite flower?
Hands down, roses in particular red!
4. What is your favorite magazine?
Ummmm.....again, I like a variety.
5. How often do you weigh yourself?
Peace...Naila Moon