Well, it is that day of the week were we meet and learn about each other. Yep, it is Meet Me Monday! As always it is hosted by the lovely Java @Never Growing Old. Want to join? Click on the site, add your name and answer these few questions!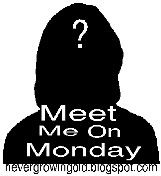 1. What is your favorite holiday?
Hands down, I love the Christmas holiday season. I do not think there is anything I do not like about it. For me, it has always been a time of renewal and a time to spend with family. I do have to say, as I have gotten older the time with family is even more precious to me, especially now that I do not live close to them.
This year will be our Grand-baby's 1st Christmas so that will be special and spoil her rotten. lol
2. What color clothing do you wear the most?
In truth, I wear a lot of red. It is often my power color. (If you notice in the photo above, I am wearing red)
Here too!
And again here too!
3. What is your heritage?
This is actually an interesting question. I know on my Mother's side:
~I am Cherokee~
On my Dad's side that is where it get's questionable. You see my Dad was adopted and had a closed adoption. What he did find out is that his parents were immigrants and were:
~Jewish~
4. What is your middle name?
Marie
5. What is your favorite cookie?
Oh, now that is a quite easy answer. I love my Mother's home made chocolate chip cookies!!! Oh, just thinking about that makes me crave them. Yummy! I especially liked them right out of the oven when they are still hot.
-------------------------------------------------------------------------------------------------------------
Make sure you link up and meet some other fine folks!
Peace...Naila Moon of the Grey Wolf