It is time for meet me Monday hosted by the lovely Java at Never Growing Old
To join, all you need to do is answer the following questions and link up.

1. How many pillows do you sleep with?
I sleep on two and cuddle with a smaller one.

2. Where will you eat on Thanksgiving?
Right here in our condo...just me and Tamirisc. sigh...

3. Would you rather go to a party or host a party?
Although, having parties is a lot of work, I would love to host one. I have never really hosted a party (other than birthdays)

4. How many purses (for the guys..wallets) do you own?
Believe it or not, I own no purses. I have many bags I carry stuff in but no purses.

5. What is your favorite kind of seafood?
Hmm? I suppose I really like trout. However, no one could make it any better than my Grandpa!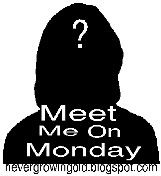 +++++++++++++++++++++++++++++++++++++++
So, my updates on the Gratitude challenge:
Day 16 Thankful for education.
Day 17 Thankful for the sun and moon that light our way.
Day 18 Donated my thankfulness post to some prayer action for all those who are hurting. I especially wanted to pray for those all out in the cold.
Day 19 Thankful for a nice, warm bed.
Day 20 Thankful for those that created pain relievers.
Day 21 Thankful for the love of my husband.
Day 22 Thankful for my Grandma & Grandpa who brought my Mom in to the world 71 years ago.
Peace....Naila Moon