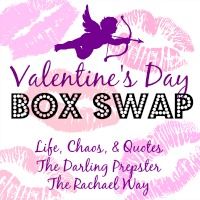 "
This year I found a blogger who was doing a Valentine's Swap box and wanted to know who would like to join. I had never really done a swap before but it sounded like fun so, I joined in.
I was partnered to swap with Olivia aka Liv. I emailed her and found out some things about her. We chatted a couple of times over email. It turns out she was a swap box newbie too. This was going to be interesting!
After a couple of emails, we exchanged addresses. We had to spend at least $10 but not obligated to more unless we wanted to.
Well, Liv wasted no time. I mean the gal was on the ball! I received an email from her saying she had ordered my box and it would be there in a few days. I was giddy to say the least to wonder what I was receiving. In the same sense, I was in terror as I wanted to make her box perfect! I sort of failed. Yes, I did!
The deadline for sending approached and passed after I realized when I was supposed to have sent something. Ahhhhhhhhh......I made it up to her though. Instead of one box, she got a box and a gift card too! :) She loved what I sent her, which I will not tell because she is supposed to write about it.
So, what did she send me? Well, this....
I like Bath & Body a lot but often will not get stuff for me. She sent me this whole thing. The candle makes my whole apartment smell wonderful! She did not know but the Japanese Cherry Blossom lotion is my favorite!
The experience was great and I would do it again for sure. We are no longer swap box virgins! LOL
Thanks Liv and Happy Valentine's Day!