Here we are upon another Wordless(ish) Wednesday and Ash Wednesday too.
Today I am bringing you a flash back photo of sorts but the photo was just taken recently.
Confused?
This is a photo of the house I grew up in from the time I was about 9 until I was a sophomore in high school.
I visited there again to show my husband where I grew up. I have not seen it in 20+ years.
The house is now over grown and the trees were not over the house like this. In fact they were much farther back. That tiny parking spot was not originally there either, it was gravel.This is the front-left side of the house. My room was located far right window.
In the back of the house was an attached apartment which my parents rented out. Behind the house was a large garage and garden. The house sat on 6 acres of land.
It is sad for me to see it in such a sad state of affairs. ~Naila Moon
Linking up with: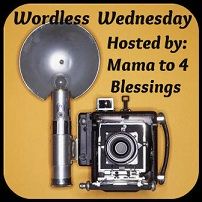 "/>