Today I am combining a couple of post because it is just easier to do that sometimes. You don't really mind do you? You love me right? hee hee
Today I am going to be connecting to Mama Kat's weekly vlogging. Don't know what vlogging is? Well, it is all my crazy stuff just on video. What? You mean you didn't know I YouTubed? Oh yeah! Hang out for that after the post for Wordless(ish) Wed., you won't want to miss it!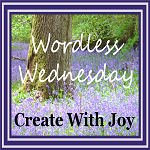 So, on to Wordless. I recently won two t-shirts from Disney for their Wreck It Ralph promo. One shirt is for my darling little Grand-daughter but the other one went to my wonderful husband, Mark aka that guy from Chronicles From the Man Cave. (shameless plug)
I think he likes his new shirt. :)
Now, on to that vlog. Today Mama Kat asked us about our job as a teen.